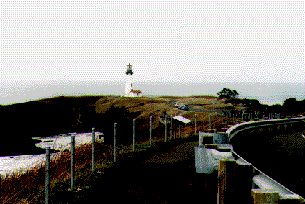 Yaquina Head is a prominant headland projecting a little more than a kilometer into the Pacific. The lighthouse was commissioned in 1873 and still has many of its original features. This is the tallest lighthouse on the Oregon coast at 93 feet.
The headland is a weathering Ginko Columbia River basalt. It is a patchwork of brecciated, pillow basalts, and palagonite. The ocean is eroding the faults and joints, creating arches and vaults as it chews the headland into stocks and sediment.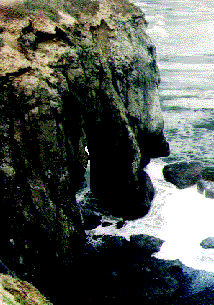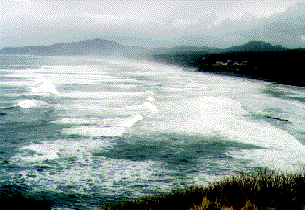 North from (Y.H.) Salal Hill along Beverly Beach
North of Yaquina Head the coast line extends in a relatively straight line for 5 miles as Beverly Beach. The incoming wave pattern breaks around Yaquina Head and bends against the headland before it curves again northward. The natural Davidson Current flows northward against the Oregon coast so the incoming wave pattern is to the northeast. The longshore current flows almost due north along Beverly Beach.