Future geologists ...staring at rocks.
The rock that surrounds the parking lot and interpretive center is mainly basalt from the Ginko formation, one of the Columbia River basalt group. This is the western most toe of these flood basalts which have reached the coast from as far away as the Oregon/Idaho border rift volcanoes.

On the left,the lighter (red) colored formation (extreme upper right of photo) found above the basalt is compacted layers of an aeolian sand dune. In the center we can see an intrusive fault-dike of a more intermediate makeup.

On the right we are studying spherodial weathering which has rounded these basalt blocks along their joints.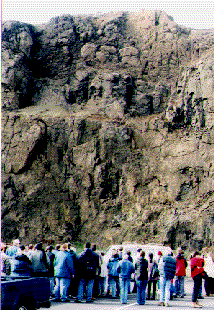 and ...staring at more rocks.