---
Spring Class - Geology 161, Portland Community College
April 22-25,1999
---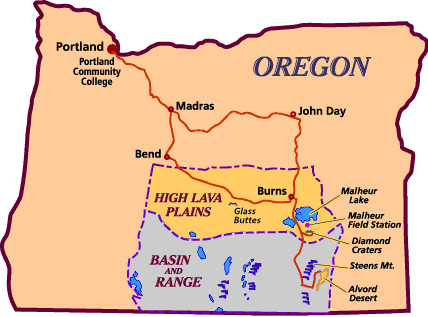 The Malheur Field Trip is an exciting exploration of the geophysical provinces of the Northern Great Basin of the Basin and Range, and the High Lava Plains. These provinces are bound by the Cascade Range on the west, the Columbia Plateau and Blue Mountain provinces on the north, and generally by the Owyhee Uplands to the east. I say generally because geological provinces are divided by geo-"political" boundaries and are subject to the vaugeries and inclinations of geologists-of-note, and opinions vary on the subject.
The field trip encompassed about a thousand miles of scenic plateaus, waysides, roadcuts, and planned stops. Twenty-seven students and four instructors traveled in three vans from the Sylvania Campus in Portland to our base-camp at the Malhuer Field Station. It was a full-day ride over the shoulder of Mt. Hood and across the Columbia Plateau, through Madras and Bend.
From Bend, the route turned east on Highway 20, crossing the High Lava Plain to Burns and then south to the Field Station at the Malheur National Wildlife Refuge.
Our four instructors were Melind Hutson, Daina Hardesty, Lynn Larson, and Tim Pliska. We returned home through John Day completing four days of geological study.
VIRTUAL FIELD TRIP
Click on the active strata below to see some of the highlights of the trip.