Tactile Graphics
Tactile graphics allow visual, graphic information to be conveyed through touch. Tactile graphics are a combination of raised surfaces including textures, lines, Braille labels, points, shapes, and scale (see sample images below). Tactile graphics are frequently made for maps, diagrams, charts, graphs, geometric figures, organic shapes, and building layouts that are difficult to describe in text alone. Students with visual impairments can learn the same information from touching the tactile graphic as a sighted student would from looking at it. Tactile graphics are used mainly by students with visual impairments and sometimes by students with learning disabilities. They can help communicate and convey important visual content to blind students when that visual content cannot be adequately described in a text format.
Important images that cannot be adequately described in a text format should be made into tactile graphics. These often are complex images, like: diagrams, maps, graphs, charts, workflow charts, building layouts, geometric figures, and organic shapes. To determine whether you need a tactile graphic, here are some questions to ask yourself. You don't need a tactile graphic if:
The information is a repeat of facts provided in surrounding text.
The information could be described adequately in text.
The real object is available and safe to touch.
Otherwise, a tactile graphic would be appropriate, especially if the information is necessary for the student to complete an assignment or participate in class. (Source: The American Foundation for the Blind from Ike Presley & Lucia Hasty. Techniques for Creating and Instructing with Tactile Graphics. Copyright © 2005. New York: American Foundation for the Blind).
Creating Tactile Graphics
Supada Amornchat (supada.amornchat@pcc.edu) from Distance Learning can work with you to create tactile graphics for your students. However, there are limitations to designing a tactile graphic. A tactile graphic shouldn't have too many details because there needs to be space enough to discern the different demarcations. In order to assist you, she will need the image itself, as well as image descriptions. Each of these requirements is explained in more detail below.
The Image
Some example image times include diagrams, maps, pie charts, flowcharts, 3D graphics.
Simplify the image by eliminating unnecessary graphic elements of the original image (or tell me what can be eliminated). Because you are a subject matter expert, I'd rather let you eliminate the non-essential pieces.
Identify and prioritize how important each graphic element is, so that we know which ones can be eliminated if we have to do so.
Export and send an image file as a .jpg, .png, .gif, or .svg format.
Below is an example of a complex image with "touch points" added: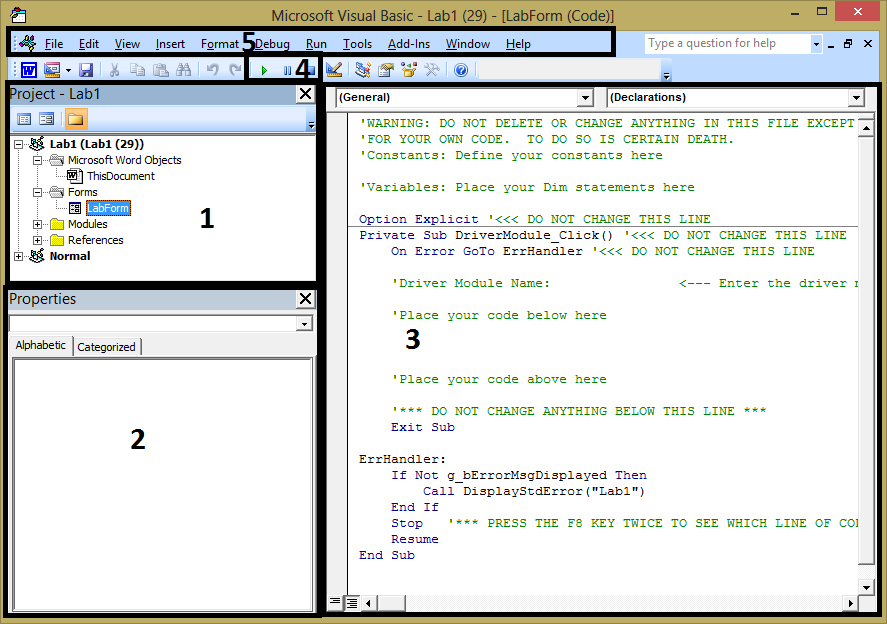 Here is an example of the same image with all the detail eliminated. The order of each section is revised to make it easy for blind students to naviage.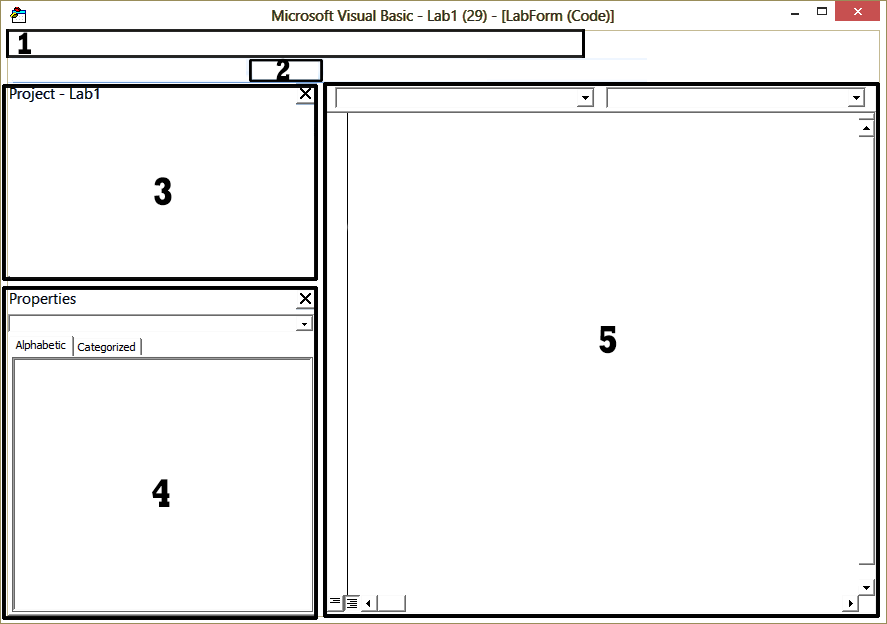 Image descriptions
The following information will be used to create the tactile graphic:
Title of the image, for example: "Microsoft Visual Basic - Lab 1."
Description of the image, for example: "This screenshot shows Microsoft Visual Basic user interface, which contains five different panels. Start from pane 1 to 5, Project pane, Properties pane, Code pane, toolbar pane, and menu bar pane in counterclockwise."
Descriptions of individual elements, corresponding to the touch points above. For example:

Menu bar - Here is a menu bar with various commands. These commands all have keyboard shortcuts. Under the File menu, there is a Save command, which you can run with either Alt then f then s, or by typing control plus s. Under the View menu, there is a Code command, which will show the Code Window for whatever item is selected in the Project Window. Under the Debug menu are commands for executing your program one line at a time, and for putting breakpoints in your program. Under the Run menu are commands for starting and stopping your program.
Run, break, and stop tools - Here is a toolbar with various commands. These commands all have keyboard shortcuts. We will be using the following commands: Save - control plus S, Run - F5, Break or Pause - control plus break, Reset or Stop - Alt then R then R again.
Project Window - This pane contains information about your Word document. Each open Word document has one top-level folder. Then, inside each document are various subfolders. In this class, we will be using the Forms folder for all the labs, and in Lab 5, we will be using a Class Modules folder. Inside the Forms folder, there is an item called LabForm. If you select this item and press F7, the LabForm code will appear in the Code Window.
Properties Window - This pane contains information about the currently selected object. We will be using this pane in Lab 5, when we use it to change the name property of a new class that we create.
Code Window - This pane contains the actual VBA code you will write in the labs. Each lab starts you off with some VBA code that provides a framework for your program. You can ignore most of this starter code except for an area where you will be adding variables, an area where you type in your driver module name, and an area where you will be typing your code.
Sample Images
Here are some sample tactile graphics that Supada created that demonstrate various features that are useful for blind students.
A Latch Diagram
Below is an image of a latch logic circuit diagram: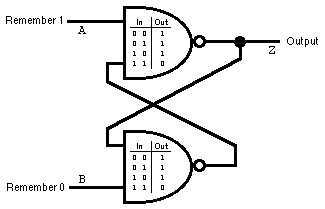 Here is an example of the same image converted to a tactile format, with Braille text:

A CPU circuit with Braille tactile graphics
Below is a block diagram of a CPU: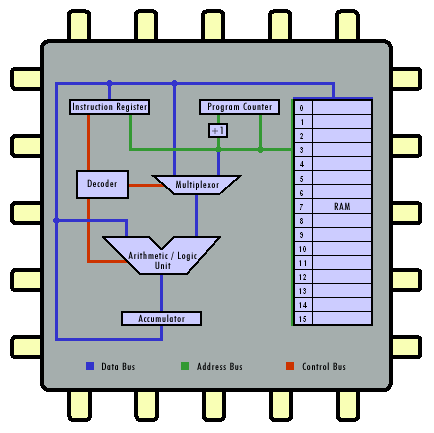 Here is a tactile version of the graphic: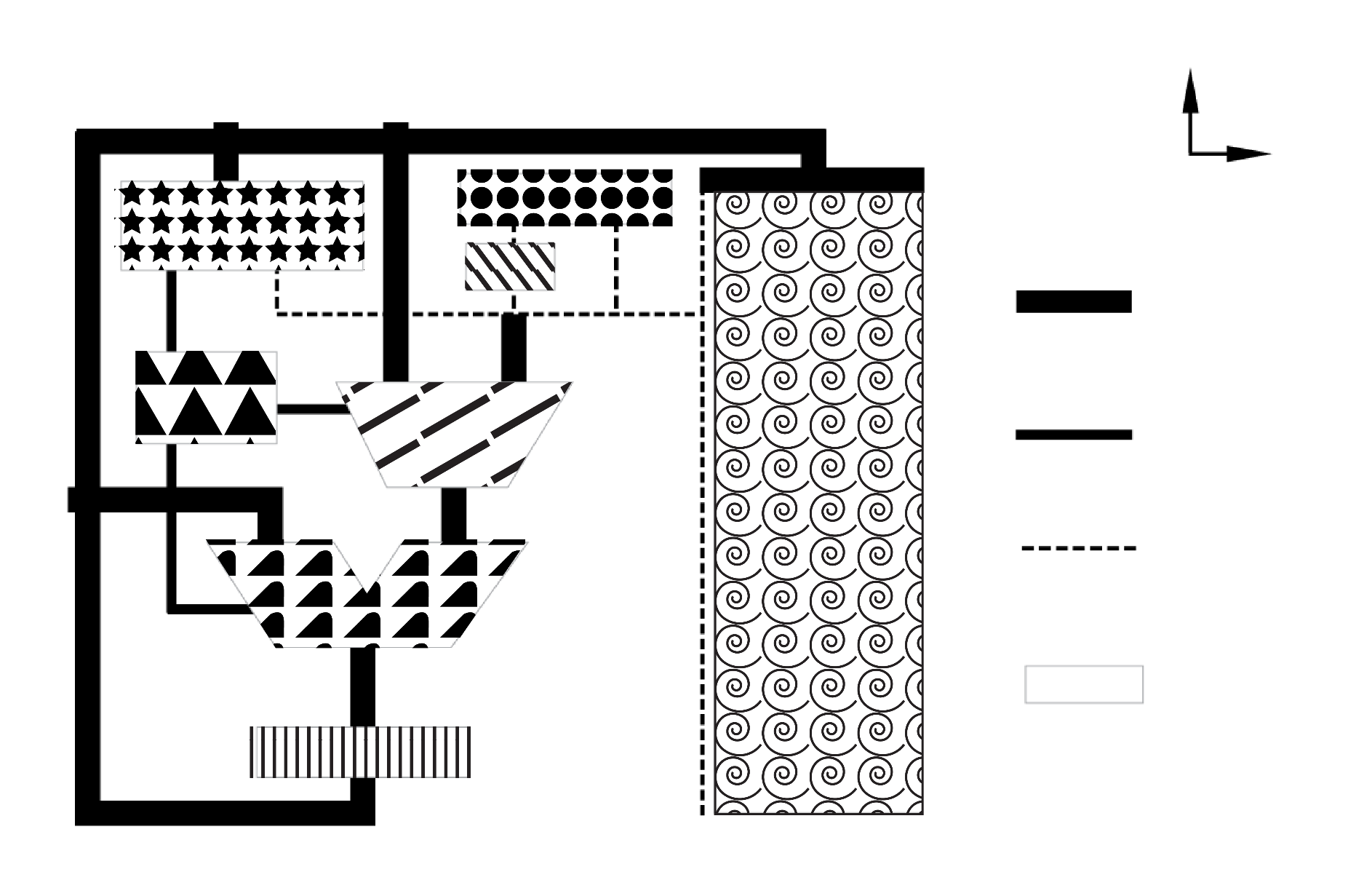 In this example, line weight and style (dashed vs. solid) have been used to tactilely distinguish between the different busses. Different tactile textures have also been added to each of the functional components of the CPU to help the student distinguish between them. Ideally, the student would also be given a legend that matched these textures to a Braille description of the component.